4 Favourite Franschhoek Cycling Experiences
Posted on Wed February 8, 2023.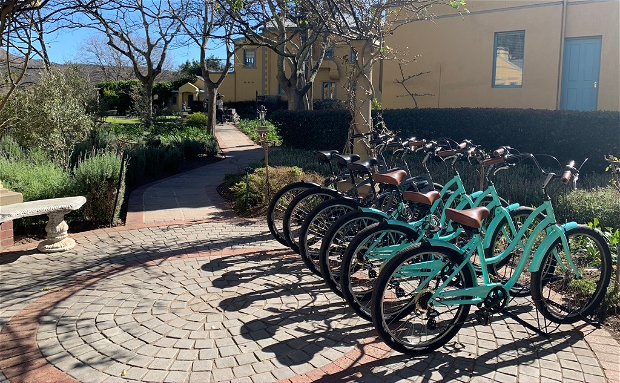 Franshhoek Country House & Villas shares its 4 favourite leisurely cycling routes in and around Franschhoek.
"Nothing compares to the simple pleasure of riding a bicycle"
John F. Kennedy
Knowing that the slower pace of travelling by bicycle allows one to really take in the scenery, scents and sounds of a place, Franschhoek Country House & Villas boasts a fleet of snazzy, aquamarine and grey bicycles that are available for our guests to make use of during their stay.
From a leisurely ride into the quaint town of Franschhoek to pedal-powered wine tastings, from winding routes through lush vineyards to single tracks traversing mountain slopes, here are some of our favourite cycling routes in Franschhoek:
Huguenot Street and Franschhoek Village
Easy 1 – 2km trip along a pleasantly flat and picturesque road
No trip to Franschhoek would be complete without a visit to the charming village centre. Riding out of the hotel's driveway you will find yourself immersed in the magnificent Franschhoek countryside, surrounded by ragged mountains and tidy green vineyards.
After about 1km, the vineyards give way to a denser village layout. Huguenot Street, Franschhoek's main road, is named after the group of French Protestant settlers that were instrumental in the establishment of the village and its wine industry in the late 1600s. This influence can still be felt in the village where French, Dutch and African cultural influences abound.
Dozens of street cafes, stylish boutiques, art galleries, chocolateries and craft breweries line the leafy village streets. There are also several museums and cultural activities to explore, including the stately Huguenot Memorial Museum. These provide limitless pit stop opportunities for a thirsty or tired cyclist.
Tip: For those that would prefer a slightly quieter journey we recommend cycling along the smaller village roads that run parallel to Huguenot Street.
Berg River Dam
Leisurely and challenging cycling routes in the conservation area surrounding Berg River Dam.
The spectacular Berg River Dam is located less than a 10-minute drive from Franschhoek Country House & Villas. Here both leisurely and challenging cycling routes meander around the dam, through the pristine fynbos vegetation and up to some spectacular lookout points.
Permits can be purchased at the Franschhoek Wine Valley Tourism Office. The conservation area is accessible from the Robertsvlei Road in Franschhoek. At the entrance gate permits can only be purchased via SnapScan. 
Boschendal Wine Farm
Leisurely, moderate and challenging single-track routes through an iconic wine farm
Discover the wide-open spaces and spectacular scenery of Boschendal Wine Farm, nestled in the valley between Franschhoek and Paarl. This expansive historical wine farm has developed several single-track cycling routes which meander between the vineyards and around the extensive farm. Trail options include a leisurely 6.5km yellow route, a moderate 11.5km blue route and a challenging 23km black route.
Pedal-Powered Wine Tasting
Wine tastings within easy reach of Franschhoek Country House & Villas
Situated right in the centre of the renowned Franschhoek Wine Route, our hotel is the perfect base for a pedal-powered wine tasting day. Here are a handful of wine estates, within a 3km radius of the hotel, that offer excellent wine tasting experiences:
Grande Provence Wine Estate – 220m
Mullineux & Leeu Estates – 1km
Mont Rochelle Vineyard – 2.5km
Maison Estate – 3km
Dieu Donne Vineyards – 3km
Chamonix Wine Farm – 2.5km
Rickety Bridge Winery - 1,8km