Explore Franschhoek's top Wineries & Vineyards
Posted on Mon November 6, 2023.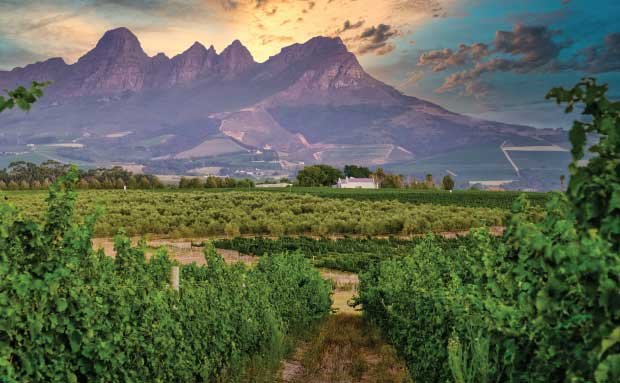 Experience the best of Franschhoek's wineries and vineyards with our short guide. Discover hidden gems and world-renowned estates, and learn how to make the most of your visit with our tips on where to stay, eat, and taste.
Exploring Franschhoek's Wineries and Vineyards with a cosy retreat at Franschhoek Country House & Villas
With its breathtaking landscapes, world-class wineries, and enchanting vineyards, Franschhoek offers an unforgettable experience for those seeking a wine-centric getaway. We invite you to tour Franschhoek's wineries and vineyards, including the must-visit spots, ending with a cosy retreat at charming boutique accommodation, Franschhoek Country House & Villas.
Experience the best of Franschhoek on a wine-tasting tour:
Nestled in the heart of the Cape Winelands, Franschhoek boasts a rich history of winemaking, dating back to the late 17th century when French Huguenots settled in the region. Today, it is home to some of South Africa's renowned wineries, each offering a unique blend of tradition and innovation:
Start your wine adventure at La Motte, a renowned family-owned estate known for its award-winning wines, picturesque vineyards, and rich history. The estate offers visitors a range of experiences, including wine tastings, cellar tours, and guided walks through their vineyards.
To experience more than winemaking activities, La Motte Wine Farm is also home to an enchanting food and wine experience presented from a historic cottage, JAN Franschhoek. The bakery is also a charming day time spot with artisanal breads and pastries to delight in, have a cosy indoor or outdoor date or explore the beautiful gardens.
Next, head to Colmant, a winery renowned for its Méthode Cap Classique (MCC) wines and breathtaking views. The estate's dedication to traditional winemaking techniques, combined with passion and the unique terroir of Franschhoek, presents sparkling wines of exceptional quality and elegance.
Grande Provence Heritage Wine Estate offers visitors a unique and immersive experience. The estate features a beautifully restored Cape Dutch Manor House, which serves as a tasting room and art gallery. The estate also houses The Restaurant, a wine and fine dining experience, The Bistro, a casual and contemporary eatery, both offering a culinary journey inspired by local and international flavours for wine enthusiasts and food lovers alike.
In addition to wine tastings, dining experiences or a picnic in the gardens, Grande Provence offers guided cellar tours, where visitors can learn about the winemaking process and the estate's history. They also have a boutique shop where guests can purchase their wines, as well as other local products and souvenirs.
No visit to Franschhoek is complete without exploring the historic Boschendal estate. Boschendal is one of the oldest wine estates in the country and is known for its picturesque setting, historic buildings, and exceptional wines. This iconic winery offers a range of experiences, from cellar tours and tastings to picnics in their lush gardens, night markets and trails for the adventurous, an exclusive gallery and something for the kids.
Immerse yourself in the beauty of the estate while sipping on their acclaimed wines, known for their elegance and finesse. For an exquisite dining experience you have the option of Werf restaurant and the Deli restaurant using fresh produce from their gardens. Pay a visit to their artisan farm shop to leave with a little reminder of the magic!
The best way to explore the Franschhoek valley is on a hop-on hop-off wine tram. Choose between 5 different tram lines to explore wineries on route and indulge the Valley's offerings at your own pace.
A Cosy Retreat at Franschhoek Country House & Villas:
After a day of wine tasting and exploration, unwind and relax at the luxurious Franschhoek Country House & Villas. Nestled amidst vineyards and mountains, this boutique hotel offers a tranquil escape from the bustling wineries. Choose from a variety of elegant rooms and suites, each exuding charm and comfort. And you don't have to leave luxury to enjoy a glass of the best that Franschhoek has to offer, we have our own selection of Franschhoek wines…
Franschhoek's wineries and vineyards offer a wine lover's paradise, with a blend of exquisite wines, breathtaking landscapes, and warm hospitality. Combine this with a cosy retreat at Franschhoek Country House & Villas, and you have the perfect recipe for an unforgettable wine-centric getaway. Embark on this journey, and let Franschhoek's charm and beauty captivate your senses.
Book your cosy retreat at Franschhoek Country House & Villas today: +27 (0)21 8763386