Franschhoek Country House & Villas: A Women's Getaway in Franschhoek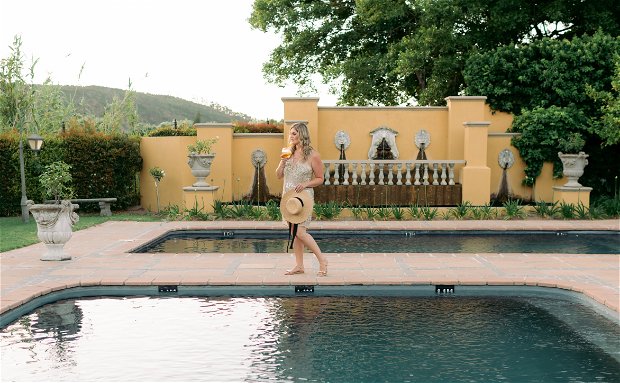 Discover the best of Franschhoek from the comfort of Franschhoek Country House & Villas. Our luxurious accommodations and strategic location make us the perfect destination for a women's getaway, with everything you need for a relaxing and rejuvenating break.
Franschhoek Country House &  Villas: The Perfect Stay for a Women's Getaway
Experience Franschhoek to the fullest at Franschhoek Country House & Villas. Our luxurious accommodations and prime location make the perfect destination for women's getaways. Indulge in a revitalising retreat complete with all the essential amenities for relaxation.
The Franschhoek Country House & Villas, found a breath away from the Franschhoek Village, offers an exclusive boutique hotel stay. This five star accommodation is nestled in the heart of the Franschhoek valley and calls you to indulge in all things fine-dining, wine tasting, exploring and pampering. Home to the acclaimed Monneaux Restaurant, Franschhoek Country House & Villas presents you with the opportunity to experience world-class cuisine at your doorstep before venturing out to the array of local and international options along the captivating streets of Franschhoek. Monneaux Restaurant offers an experience of freshness, creativity and generosity while preserving technique, and elegance – a true taste of luxury. Where better to retreat with your girls than this luxury accommodation in Franschhoek. If we have to continue to convince you of the allure, think shopping at boutiques or weekend markets, strolling down historically rich streets and pampering yourself with a selection of beauty and wellness treatments at our home-base spa.
Strategically Located in the heart of the Franschhoek Valley
Complemented by the unique attractions from this famous Cape Winelands town is it's
promise of world-class cuisine and guest services, making Franschhoek Country House & Villas the perfect stay for a women's getaway. Consider Franschhoek Country House & Villas your perfect starting point for exploring the historical town filled with treasures, attractions and activities. This charming and luxury accommodation is an hour's drive from Cape Town and enveloped by enchanting vineyards and majestic mountains.
Luxurious Accommodations for a Girls' Time Getaway
Franschhoek Country House & Villas presents a selection of rooms, garden cottages and villa suites designed for comfort and luxury. This luxurious accommodation offers guests the perfect setting to relax and unwind. Most rooms have private balconies or lead to a private patio to enjoy peaceful moments while taking in the captivating views.
The standard rooms, located in the manor house, present a charming stay with luxuries and amenities to pamper and help you and your girls relax. All en-suite rooms have an area for lounging and a private balcony. To feel like you're truly the main character, there is a separate guest lounge to relax and enjoy a complimentary sherry.
The Luxury rooms are located outside the manor house with luxury and comforts to enjoy complemented by a private patio or balcony, wood burning fireplaces and views of the fountains and lavender gardens.
The Garden Cottages are a cosy country-styled stay with a captivating view of the vineyards. This charming double storey cottage includes an en-suite bedroom, a private garden and patio area downstairs and a lounge and balcony upstairs.
The luxurious Villa Suites are spacious and invite the guests to indulge and relax with the impeccable amenities including a separate lounge, underfloor heating, a fireplace, picturesque bathroom and 2 private balconies.
All rooms offer first-class hotel features and facilities in a relaxing French scene, including breakfast and complimentary WIFI.
Things to Do in Franschhoek
This charming village offers spectacular views and is known as the food and wine capital of South Africa. Explore the historically rich streets of Franschhoek, presenting an array of world-class cuisine options and exquisite boutique wine farms in the Franschhoek Valley. The famous Stellenbosch and Paarl wine routes are a scenic drive away and easy to navigate. More points of interests include local galleries, art shops, jewellery shops, the Huguenot museum and historical sites, and for the sweet tooth a chocolate factory. Take a slow drive up the scenic Franschhoek pass for a breathtaking view of the Valley and discover more wine farms along the way. For the more adventurous there is a selection of activities to appeal to you. Whether you're in the mood for a horse ride through the vineyards or a hike and cycle in the Franschhoek Mountains. You will certainly not run out of things to do!
The perfect Women's Getaway. Book Your Stay Today!
Escape for some much needed girl time at the charming boutique hotel, Franschhoek Country House & Villas. Personalised luxury with spacious rooms and comforts to make it an unforgettable time. Spoil yourself with an amazing dining experience at Monneaux or a melt aways pamper at Franschhoek Country House Treatment Room together with an endless list of nearby activities and attractions to colour in your women's getaway with comfort, unique experiences and luxury.
Contact us today to book your stay at Franschhoek Country House & Villas: +27 (0)21 8763386