Discover the Wonders of Western Cape's Scenic Passes when visiting Franschhoek Country House
Posted on Wed April 26, 2023.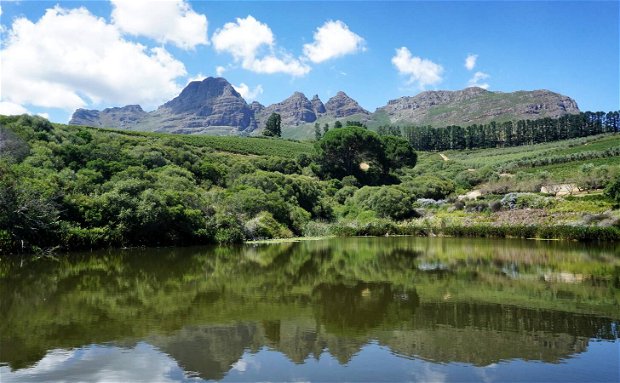 Explore the most picturesque passes in the Western Cape when visiting Franschhoek Country House
Renowned for its scenic beauty, the towering mountains and break-takingly beautiful valleys of the Cape Winelands are best viewed from the region's mountain passes. Within easy reach from Franschhoek Country House & Villas, these mountain passes not only offer picturesque views, but showcase the region's natural beauty through their winding curves and thrilling driving experiences. Make sure to include Franschhoek Pass, Sir Lowry's Pass, and Banhoek Pass in any self-drive Winelands itinerary. 
Franschhoek Pass 
Franschhoek Pass, also known as Lambrechts Road, runs between Franschhoek and Villiersdorp. This pass is considered one of the most beautiful drives in the country due to its breathtaking views and surrounding landscape. As you drive along the mountainside, you'll be surrounded by the unique Fynbos vegetation that is native to the Western Cape region. Keep your eyes peeled for baboons and klipspringers, as they're often spotted in the area. While the pass is steep and winding, the panoramic view of Franschhoek and the surrounding wine farms, including La Motte, Leopard's Leap, and Haute Cabrière, from Huguenot Monument are definitely worth the journey. 
Getting There 
The journey from Franschhoek Country House to Franschhoek Pass takes approximately 15 minutes and covers a distance of around 7 kilometers. Along the way, you'll be treated to awe-inspiring vistas of the surrounding mountains and valleys, as well as lush vineyards and farms.  
Sir Lowry's Pass 
Sir Lowry's Pass connects Somerset West with Grabouw in the Overberg region. This pass is known for its majestic views of the coastline, hiking trails, and the popular Helderberg Nature Reserve. The highlight of the pass is the bird's eye view of the entire region from the top, where you can even see all the way to Table Mountain in Cape Town on a clear day. Interestingly, the pass was named after Sir Galbraith Lowry Cole, a British military commander in the early 1800s. With its sharp turns and stunning scenery, Sir Lowry's Pass is sure to give you a thrilling driving experience. 
Getting There 
The journey from Franschhoek Country House to Sir Lowry's Pass typically takes around 45 minutes, although this can vary depending on the current traffic and road conditions. 
Banhoek Pass 
Banhoek Pass has a rich cultural history and was used by Dutch settlers in the 1700s and 1800s to transport goods between Stellenbosch and Franschhoek. Today, it is a popular tourist destination, attracting visitors from all over the world who come to experience its beauty and learn about its history. Situated between Stellenbosch and Franschhoek, Banhoek Pass offers a combination of vineyards and hiking trails. As you drive up the pass, you'll be surrounded by the Jonkershoek and Helshoogte mountains, with several lookout points where you can stop and take in the views of the valley below. 
Getting There 
Travelling from Franschhoek Country House to Banhoek Pass typically takes about 30 minutes, covering a distance of around 18 kilometers. To make your journey even more memorable, consider adding some wine farm stops along the way and make a complete adventure of your journey.  
All three of these mountain passes offer a unique driving experience and incredible views of the Western Cape's natural beauty. Whether you're planning a trip to South Africa or are a local, be sure to add these scenic drives to your itinerary. Just remember to drive carefully and take plenty of breaks to appreciate the picturesque scenery it has to offer.